Sep 26, 2013 | #console #games #steam #steampowered #videogames
One of the most exciting news I've heard so far is the announcement of the new SteamOS: a living room OS built by Steam and is based on Linux. Valve announced the development of "Steam Machines" and the upcoming beta testing stage.
Steam Machines are machines that will run the SteamOS, with customizable hardware and will be released in 2014.
A powerful new category of living-room hardware is on the horizon.
Join the hardware beta now.
Choose the model right for you in 2014
How to be a part of the beta
THE HARDWARE BETA ELIGIBILITY QUEST:

3. Make 10 Steam friends (if you haven't already)

4. Create a public Steam Community profile (if you haven't already)
Note: Step 5 really requires you to use a gamepad, you can't accomplish this quest if you just run Steam in Big Picture mode and launch a game using a mouse and/or the arrow keys.
The Badge Quest
After completing the steps, the badge will appear on your account (+150XP) and you will have a chance to be one of the 300 beta testers. Take a look at the badge quest below: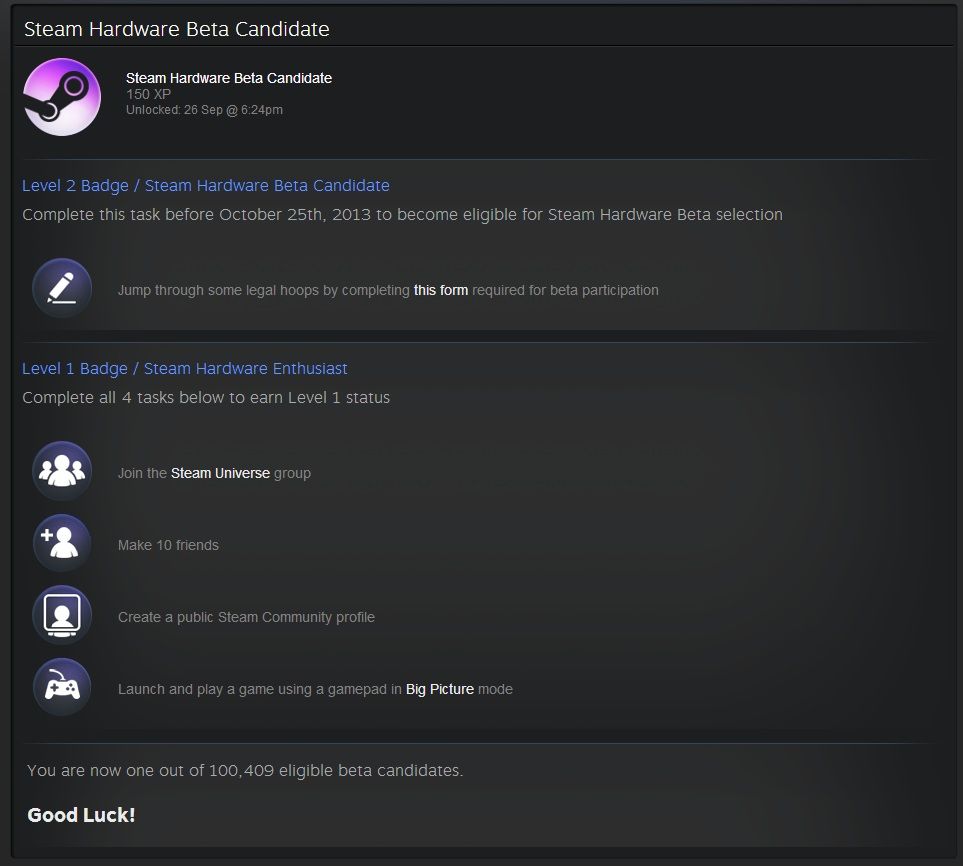 Questions
Here are some of the questions found in the article that I found interesting:
How will you choose the 300 beta participants?

A small number of users (30 or less) will be chosen based on their past community contributions and beta participation. The remainder will be chosen at random from the eligible pool.

When will the prototypes ship?

This year.

Will beta testers be allowed to share info about their experience and post pictures and opinions online?

Yes, that really is the whole point. The input from testers should come in many forms: bug reports, forum posts, concept art, 3D prints, haikus, and also very publicly stated opinions.

Can I hack this box? Run another OS? Change the hardware? Install my own software? Use it to build a robot?

Sure.

Can I download the OS to try it out?

You will be able to download it (including the source code, if you're into that) but not yet.

What games will be available during the beta?

The nearly 3,000 games on Steam. Hundreds already running natively on the SteamOS, with more to come. The rest will work seamlessly via in-home streaming.

What is SteamOS? What's included?

Here's a link to what we said earlier about SteamOS. We'll have more details to tell you, soon.
Conclusion
I would love to be part of the beta and receive one of those steam machines. Hack it, run another OS, install my own software, or use it to build a robot aside from being able to play games on it? Count me in!
comments powered by

Disqus