Olympus OMD (EM-5)
Written by John Vinny Marquez, Posted in Gear Reviews, Personal, Photography, Technology
Notice
: Undefined offset: 0 in
/home/vinny514/public_html/wp-content/plugins/seo-image/seo-friendly-images.php
on line
185
I've decided to start from scratch, scrapping any sort of knowledge I had (if I ever had any) of photography. When I was young My mom taught me how to shoot film but I wasn't able to follow through so the meager skills I had then faded into the abyss. Still, the visual side of me kept on wishing I could study photography seriously. Last year I decided to go through with it.
So this here is a noob's review of the Olympus OM-D EM-5, the first of many (hopefully) articles that I am going to write regarding photography. I'm creating a post category here entitled 'FromZeroToHero' to mark the documention of my photographic adventures. Some of you may wonder why I chose the EM-5, or even the Micro 4/3 platform? Some of you might wonder why did'nt I start with a proper DSLR? Or why Olympus? The answer to these questions stem from my love of street photography, the discipline I want to get into. I love the stories from these kinds of photographs and adored these black and white snaps ever since I was young. So I decided I want something light and unobtrusive yet powerful. Why olympus then? Actually I love Canon and Fuji colors and I seriously considered the Fuji Xpro1 but ended up picking the EM-5 for its features: from the good lens selection (Oly + Pana = win!) to the programmable menus and ergonomics that remind me of the old cameras.
For now, I have the EM-5 body plus the 12-50mm kit lens (24-100mm equivalent in 35mm) and this setup is what I am going to review today. I bought it at CameraHaus MegaMall on promo (47.5K PHP for the package).
Key Features
16.1mp Live MOS CMOS sensor
EVF 1.44million with eye-detection, dioptre adjustment, vignetting correction
3inch OLED tilting capacitive touch-screen 610k dots (equivalent to VGA)
World's fastest*2 FAST AF auto-focusing system plus 3D tracking
World's first*1 5-axis Image Stabilisation (Photos / Video)
9fps shooting, 4.2fps continuous shooting with AF
ISO200 – 25600
Full HD Video, MPEG4
Flash Hot Shoe
AP2 – Accessory Port
Electronic spirit level
2 Function buttons
Front and Rear Dials
Dedicated video button
Weather-sealed magnesium alloy body
Focus assist lamp
AV/HDMI Out
SD/SDHC/SDXC Memory Card
Lithium Ion Rechargeable battery
New "Key Line" Art filter
Size Comparison
Since I live in the Philippines I used a 5 PHP coin and threw in an SD Card Adapter just to make sure. The camera itself is not much larger than a regular point and shoot: its a little bigger than an LX-5. The kit lens is a bit long for my tastes but atleast its very slim.
(Apologies for the pics, they were shot using a Galaxy S3 and an iPad 3 with minor corrections)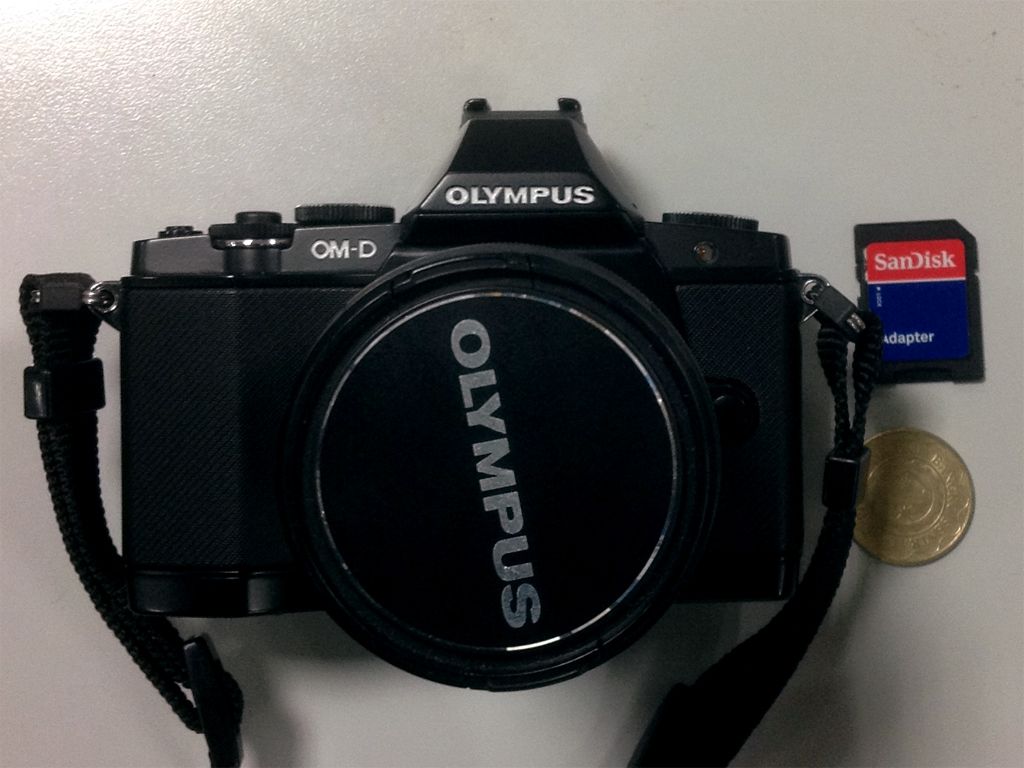 Handling
I love the way the camera is constructed. It doesn't feel cheap in anyway (well, it really isn't… atleast for me) and the body reminds me of old SLRs like the Canon AE-1 (sorry I never had the chance to hold the old Olympus OM so thats as close as it gets for me). The size and weight is a perfect match for my hand size.
 (Yes friends, that is DoTA in the background)
If there's one thing that I don't like with this camera its the grip, or the absence of one. When I hold the thing singlehandedly I'm always scared that I'd drop it (good thing there's that thumb grip but it still feels awkward though). Ok, there's the battery grip/holder but come on, another 300$ for that? And what about availability in the Phlippines? I haven't found any of these babies sold locally so I'm gonna have to pay premium for one (base cost + shipping fee + customs fee, do the math :p).
Kit Lens: 14-50mm (28-100mm equivalent)
They say its the shooter not the camera and I believe that is true but in this case I'm a little confused. Its either the lens is really not that good or I didn't learn much within 3 months with shooting with this thing. I achieved good results with using the macro though.
On the street
I'm quite happy with this camera and I've been using it every day. Even with the size of the lens it is still unobtrusive. Most of the time people do not notice that I am taking pictures of them. And when they do, I already captured the moment. Its very light and I can whip it out faster than my Mom's 550D. I'm looking forward to having the Panasonic Lumix G Micro 4/3 LEICA DG SUMMILUX 25mm f/1.4 Leica Aspherical Lens for my first prime.
Photo Samples
Here's some of the shots I've had so far. Also, if you would be so kind to please follow me at 500px (or view, vote or favorite any of my photos :p).
Future plans
I plan on investing on primes from both Oly and Pana, a better zoom and an ultra-wide lens:
Optional/stretch goals:
If i get any of these I'd go and get shooting then start blogging!
Conclusion
This camera is not for everyone. Some would opt for a NEX, Xpro1 or the new EOS-M. But if you have the same reasons like mine, I highly recommend this camera. Its small, powerful, noob friendly and fun to shoot with! I bring it wth me every day!