Oct 15, 2013 | #blogging #expressjs #javascript #minimal #minimalist #nodejs #sqlite
What is Ghost?
Ghost is an Open Source application which allows you to write and publish your own blog, giving you the tools to make it easy and even fun to do. It's simple, elegant, and designed so that you can spend less time making your blog work and more time blogging.
It's built with Node.js, Handlebars, Express, JugglingDB and SQLite. It has been released for the general public last October 14, 2013 (3 weeks after the release for those who supported the KickStarter campaign). What I like about Ghost is that it focuses mainly on publishing. WordPress is good but I feel that it has already mutated from just a blogging platform to a full featured CMS application. Thats good for a lot people but for me, I've been looking for something more lightweight and with JS as its main language (sorry, I'm not a big fan of PHP).
I'm interested, how can I try it?
As of today, there is still no paid service like what WordPress.com offers (their team is currently 'working on a world class' solution). You can download the source code and install it locally (for testing and development) or upload it on Node.js ready web hosts. I have already tried installing Ghost on OSX and Windows 7 by following the installation guides.
Installing and Running Ghost locally
Log in to http://ghost.org, and then click the blue 'Download Ghost Source Code' button.
On the downloads page, press the button to download the latest zip file.
Double-click on the downloaded zip file to extract it.
Open terminal window/command prompt, type cd the grab the newly extracted 'ghost-#.#.#' folder and drag it onto the window to get the full path.
In the new terminal tab type npm install --production note the two dashes. note: for mac/linux users, type 'sudo -s' first for root terminal rights
When npm is finished installing, type npm start to start Ghost in development mode
In a browser, navigate to 127.0.0.1:2368 to see your newly setup Ghost blog
Change the url to 127.0.0.1:2368/ghost and create your admin user to login to the Ghost admin.
See the usage docs for instructions on the next steps
I haven't tried hosting it live yet so I won't be writing about that, but you can find more information at the documentation: http://docs.ghost.org/installation/.
Screenshots
Here are screen caps from my installation: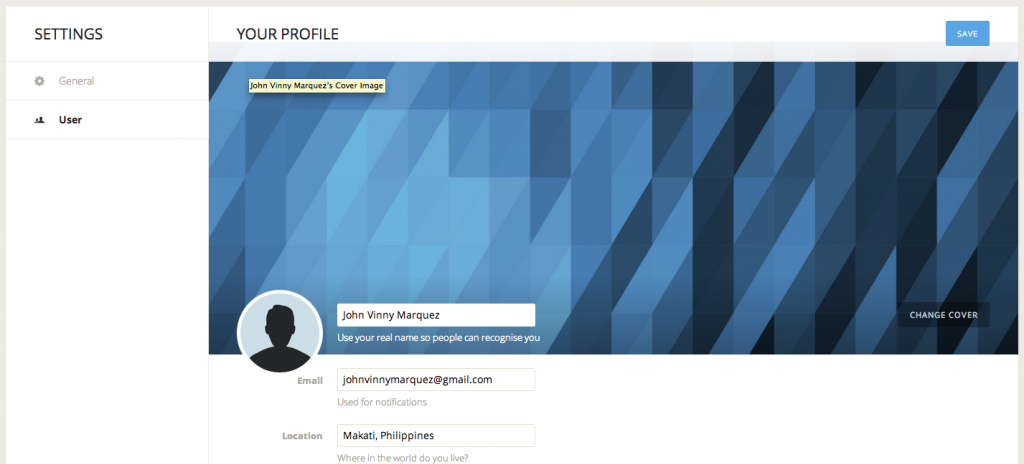 Conclusion
As a blogger, I like it! Especially writing posts with Markdown since I use IA Writer most of the time for distraction free writing. As for the (planned) dashboard feature, I kind of agree with this guy. To a run-of-the-mill blogger (like me) who can't make sense of analytics and just wants to blog, this just a "nice to have" or "wouldn't even care about" feature. It would be so much better (IMHO) if another alternative could be pursued; something like dashboard analytics as feeds or like how Klout does it. I don't know, maybe prioritize something simpler (new and unique) and then implement the pretty dashboard as a plugin (for those who need and know how to use it) afterwards. Afterall, this project was conceived so that you can spend less time making your blog work and more time blogging.
As a software developer, I dig it! Its simple, clean and uses the latest tech for internals. I've been recently wanting (and preparing) to move into Mobile and Web development (studying Appcelerator Titanium and getting a feel for the current JS standards) so it works for me since I don't have to deviate much. For those who make WordPress themes, rejoice in the fact creating themes isn't too far from what you've been used too.
As of this writing, I believe that Ghost still has a long way to go before it replaces my WordPress installation. But its getting there. For now, I'll be patiently waiting until all the features that I require arrive. But to prepare for the things to come, I'm starting migrate to a node.js installated linux host. Bye Bye ASP .net hosting!
More info and links
Features - https://en.ghost.org/features
Github Repo - https://github.com/TryGhost/Ghost
Known Issues - https://github.com/TryGhost/Ghost/issues?milestone=3&page=1&state=open
Planned Features - https://github.com/TryGhost/Ghost/wiki/Planned-Features
Roadmap - https://github.com/TryGhost/ghost/wiki/Roadmap
Any comments? Suggestions? Any form of reaction? Hit up the comments section! Let's talk!
comments powered by

Disqus